What Window Treatments To Choose For Your Chicago Custom-built Home
If you have decided to build a custom home in Chicago, you want to get every detail right, and that includes the window treatments. It might come as no surprise that plantation shutters are such popular picks in window treatments for custom homes in Chicago. Their versatility and beauty blend in with any interior and give you complete command over natural light. With this in mind you are able to quickly fashion an inviting atmosphere and illuminate the unique elements of your custom-built home.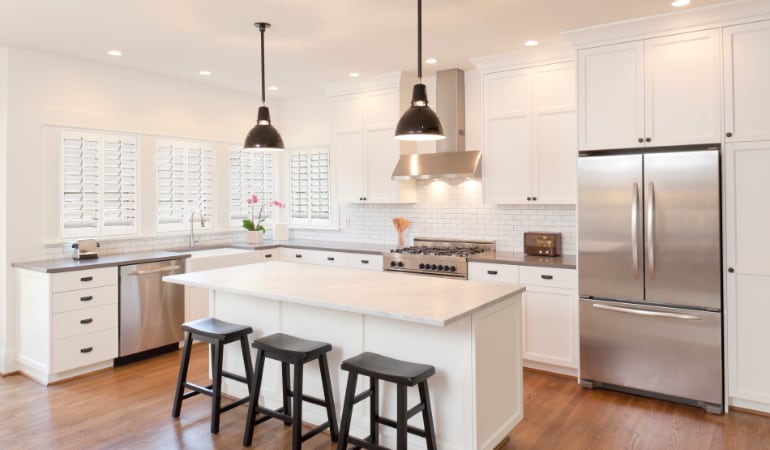 How Do Plantation Shutters Elevate a Custom Home?
When you want to draw attention to your custom home, select window treatments that other homeowners in Chicago install to enhance their homes. Plantation shutters work wonderfully with any design choice. They are a point of emphasis and catch the gaze of anyone who may be more familiar with outdated drapes and metal blinds. Their simple but elegant construction requires no extra dressing to look stunning and ensure a positive influence on visitors.
Plantation shutters are a smart finish for a custom home. The sharp design and versatile color choices incorporate easily with any style of home, so you are able to advise the home builder to include them in any room without worrying about how they will look in your furnished home.
Plantation shutters can also be designed to fit specialty windows and more standard sizes, so you have the ability to utilize them for windows of any type and save yourself the hassle of selecting various window treatments. You will appreciate having a job removed from your list as you figure out your remaining home finishes!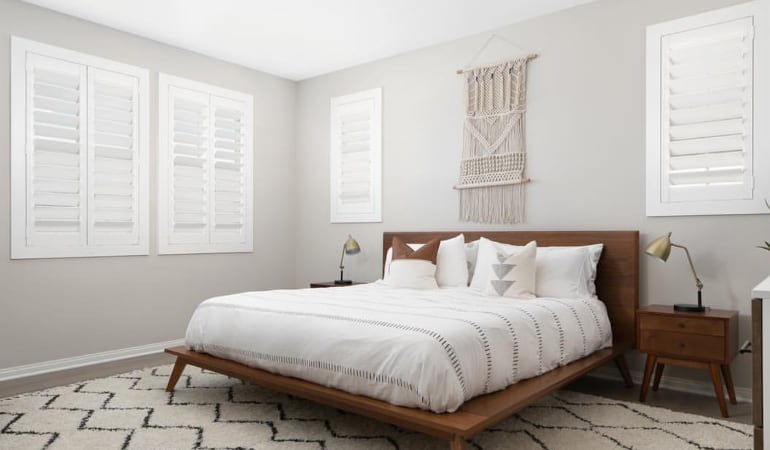 How Do Plantation Shutters Make It Easy To Direct Sunlight?
Homeowners and guests enjoy the look of a well-lit home. While you'll no doubt choose beautiful electric lights to illuminate your custom home, sunlight has distinctive properties that make a space appear bigger or alter its mood.
However, natural light is hard to predict. As the day goes on, the amount of sunlight entering your new home changes, and you will need to adjust your window treatments to redirect the flow of light. When trying to find window treatments for custom homes in Chicago, people show a preference for faux wood Polywood® and natural wood plantation shutters that help them control the levels of sunlight a space gets.
Simply adjust the tilt rod to change the angle of the shutter louvers in the daytime when windows receive direct sunlight to give a room a more comfortable feel and increase the opening to brighten things up when the sun has shifted to a new location. You can even swing the panels open at the hinges for a wealth of natural light to generate an open air appearance and close them again for a cozier feeling.
Altering the slat angles also gives you the chance to redirect light. When moving the slats in either direction, you can illuminate dark corners to make a room seem bigger. You are able to redirect unwanted glare away from your visitors' view and reflective surfaces without shutting the slats and completely losing the light. With one simple motion, you can manage the placement and the amount of daylight that radiates within your home to ensure the comfort of your guests.
Find The Best Window Treatments For Your Chicago Custom Home
Showcase your home in the best way possible with the alluring design of plantation shutters by Sunburst Shutters. We install made-to-order window treatments that Chicago property owners want for their custom-built homes. Contact us at 847-250-6544 or complete our simple form to schedule a free in-home design consultation.