What Are The Leading Window Treatments For Over The Kitchen Sink In Chicago?
When you're shopping for window treatments, be sure to consider your kitchen -- especially around the sink. If you harbor reservations about splatters of water and food ruining a window treatment over the kitchen sink in your Chicago home, use plantation shutters. They look spectacular in any space but stand up to the often wet and messy kitchen environment.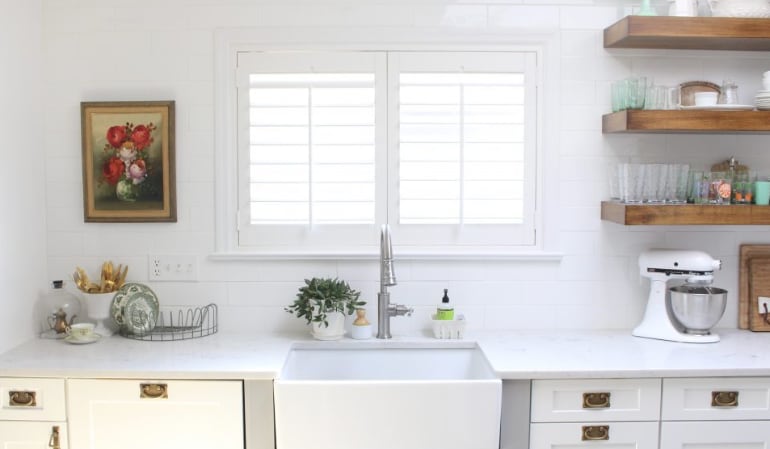 Dazzling Faux-Wood Shutters Look Attractive In Any Chicago Kitchen
Window treatments over your kitchen sink in Chicago should offer function and durability. But you don't need to sacrifice beauty when you install trendy faux wood Polywood plantation shutters.
This timeless option mixes seamlessly with every kitchen design. They can be found in different hues of white that harmonize well with kitchen appliances and finishes, and their firm panels of movable louvers offer a counterpoint to the flatter, more uniform aspects of your kitchen. Polywood materials convey subtle appeal to both extravagant and simplistic kitchens and all spaces between.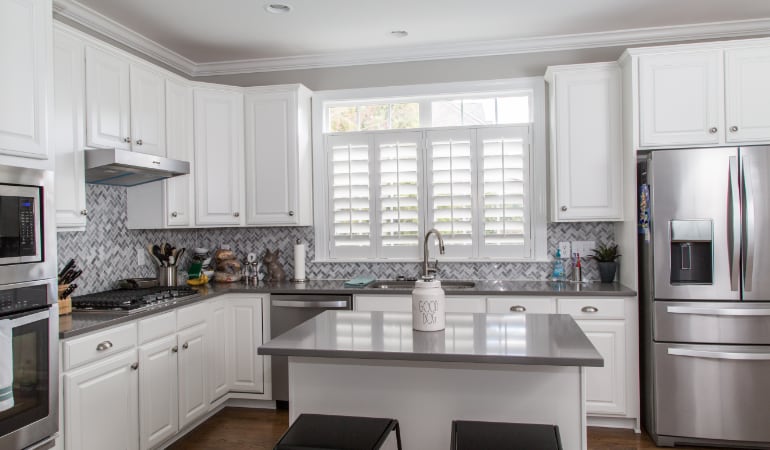 Polywood Shutters Are Resistant To Harsh Conditions
Do you ever see water droplets on window panes when you're trying to boil water or wash dishes? That same condensation clings to window treatments over your Chicago kitchen sink, where it will deteriorate standard fabric products after a period of time.
Instead, you should consider Polywood shutters. The patented construction of Polywood and resilient coating resist damage from a moist and steamy environment. They are impervious to water. Polywood shutters will not be yellow, warp, or chip from the humidity in your kitchen.
The sun and changing seasons won't affect these window treatments. When Installed for the window over your sink, these products endure both old air and powerful UV rays. These long-lasting shutters will not deteriorate due to interior warmth or outside cold, nor will they discolor or fade from the sun.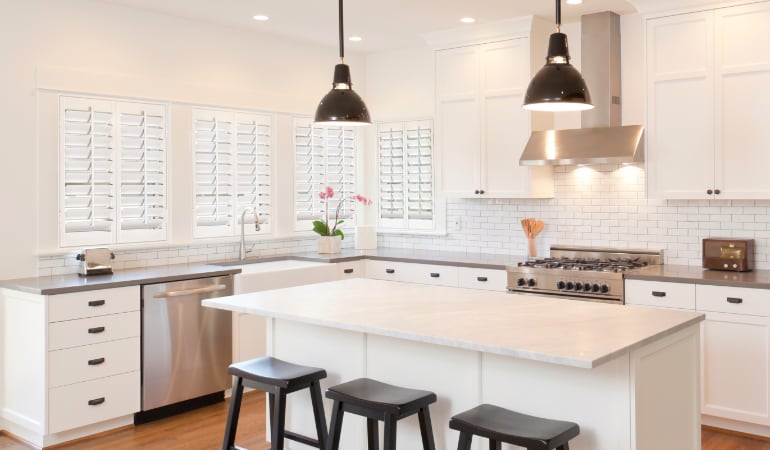 Window Treatments That Give You More Light For Kitchen Work
Getting enough light is critical in your Chicago kitchen. You don't want to harm yourself because you can't see! Plantation shutters provide the amount of light you want and are a cinch to adjust. Just swing open the panels or move the louvers with the easy-to-use tilt rod. You don't have to worry about cords that always get tangled or a pull bar that's hard to grab on to when you want to change the lighting.
If you want full light, open the shutter panels completely. If the sun is blinding, move the panels back in place and move the tilt bar for softer light. You can also shift the slats to eliminate unwanted glare within your space. When you don't want neighbors looking into your kitchen at night, shut the louvers tight for complete seclusion.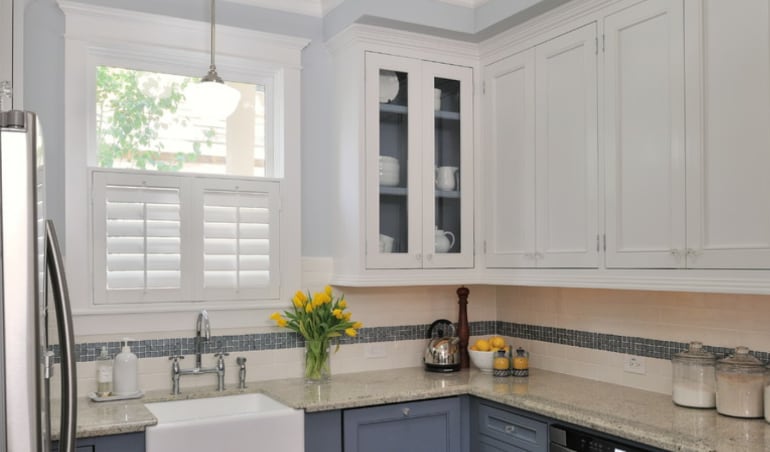 Polywood Shutters Make Cleaning Easy
Kitchen surfaces collect sauce splatters, grease, and dirt. The window treatment over your Chicago kitchen sink needs to clean up easily. This is one reason why Polywood great for kitchens. The impenetrable material will not trap odors or collect stains like fabric options. They just need a quick dusting or wipe with your lightly dampened rag, and they look good as new.
There's no need to waste time gently reaching your cleaning wipe through the slats as you would with inferior blinds. Shutter louvers are sturdy, and you can choose wide louvers for your custom shutters that create large openings for you to reach through with your cloth.
Get The Perfect Window Treatments For Over Your Kitchen Sink In Chicago At Sunburst Shutters Chicago
Sunburst Shutters Chicago offers exceptional window treatments for every window -- even the one above your sink. Speak with our experts about what you have in mind, and we will help you find the perfect option. Call us today at 847-250-6544 or complete our online form to get started.