The Best Window Treatments In Chicago For Back Doors
Do you have flimsy blinds on your back door that rattle against the glass pane each time you shut the door? Or is the glass on your back door still bare because you're unsure how to cover it? Adding the right window treatments to your back door allows you to enjoy the light and outside view of your Chicago backyard while also giving you control over light and privacy - without the noise of blinds or any other covering that bangs against the glass when the door moves.
The first thing to think about when finding a back door window treatment is durability. It should be durable enough to handle the door's repetitive motions and occasional exposure to outside. It should also provide privacy from curious neighbors while coordinating with your home.
Whether your back door is a french door, sliding glass door, or a normal swing out door with a glass window, learn about the best back door window treatments in Chicago to meet your needs.
Plantation Shutters That Are Fixed To Your Door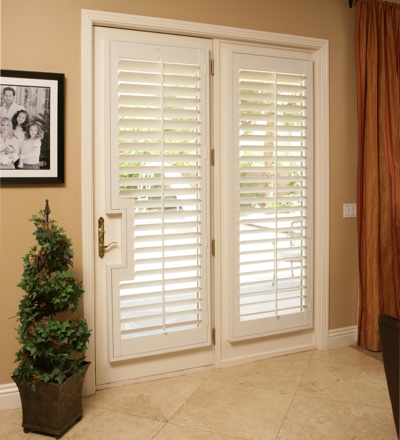 Faux wood plantation shutters are great for back doors since the shutter panels are attached tightly to your door. So when you shut your doors, the shutters go with the door and don't bounce against the glass. You can tilt open the shutter louvers to see outside or close them for privacy. The shutter panels can swing out when it's time to clean the glass on the door.
Our Polywood® faux wood shutters are built for durability and can endure the continuous movement of your back door. They're made of a composite material that resists moisture and fading. The shutters won't chip or peel due to humidity or temperature changes. Polywood shutters also reduce heat transfer through the window to increase your home's energy efficiency.
French doors or sliding glass doors that are attached to your deck or patio can be challenging to cover due to their handles and large glass panes. Plantation shutters are customizable. They can be cut out around irregular shaped or large handles and can be installed on any size of glass. Plantation shutters can also be used with bi-fold doors or sliding panels for a sliding door. The result is pristine custom shutters that remain tight to your door. And it's easy to open and close the shutters and your door.
Personalized Shades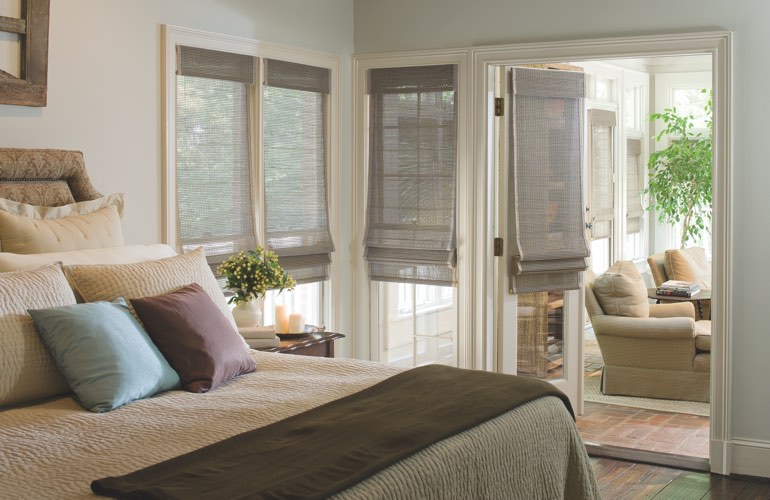 Another back door window treatment that is easy to personalize is shades. They come in many colors, material, and patterns. You can retract them to see the view outside or pull them down to filter or block the light. Upgrades include liners for light and privacy so you can tailor them to your needs. Shades that work well for doors with glass include Roman shades, cellular shades, and roller shades. Roman shades form a stack at the top of the shade but are flat when pulled down. Cellular shades have small pleats that form a honeycomb shape from the side. These pleats create air pockets that help insulate the glass. Roller shades have a tube at the top that the shades come down from.
You'll want shades made from material that can guard against the effects of moisture and heat if your door is subject to relentless sun or humidity. Shades aren't as energy efficient as Polywood shutters, but you can block some energy loss by using cellular shades or shades made from thicker material with liners. Also know that shades are more susceptible to fading when compared to shutters.
Shades can be mounted with hold down brackets so they don't swing around when the back door is shut. One disadvantage shades have is that you can't cut the shade around large door handles.
Pick The Back Door Window Treatment That's Perfect For You
Looking for more ideas for your back door window treatments in Chicago or window treatments for your living room, dining room, or sidelights? Look through our idea gallery and Ultimate Room Guide. And if you're ready to order window treatments call us at 847-250-6544 to schedule a free in-home consultation. A member of our local team will come to your house and help you pick the best window treatment. Call us today!