Great Nursery Window Treatment Ideas In Chicago
When you've got a child on the way in Chicago, you want to have every aspect of your little one's nursery perfect -- and that includes the window treatments. But before you pick out the right window treatment, keep in mind that safety and functionality are essential. Newborns can bring down drapery or get caught in blind cords. These treatments won't stop light and unwanted air flow for good sleep either. Instead, install safety-focused, efficient plantation shutters or cellular window shades as window treatments for your nursery in Chicago.
Plantation Shutters Keep Your Nursery Cozy, Safe, And Stylish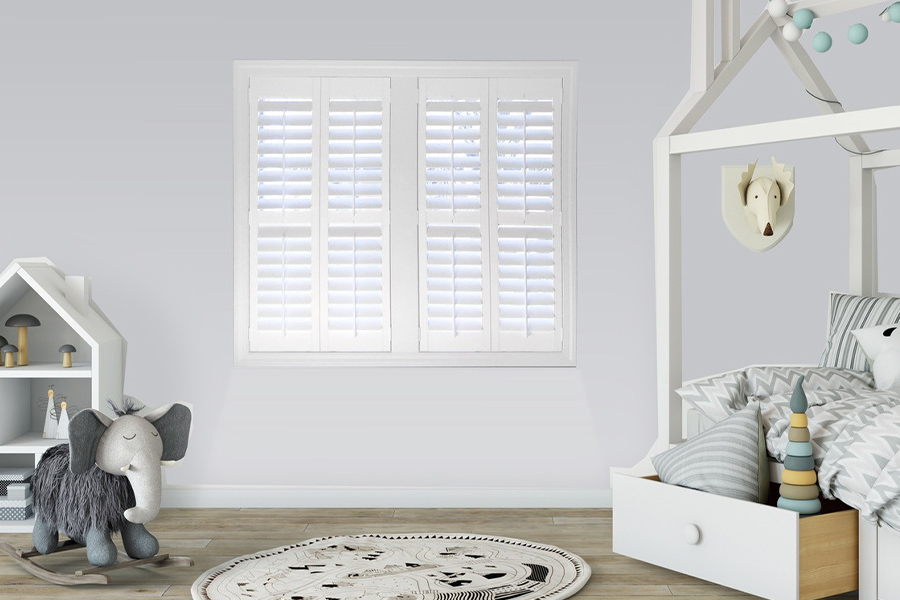 Interior shutters may not be first on your list for nursery window treatment ideas in Chicago, but they really are the best choice! These superior window treatments look stunning in any space. Their sturdy panels provide an eye-catching accompaniment to the softer furnishings usually associated with a child's nursery. You might utilize
white faux wood Polywood® shutters
in spaces with vibrant or pastel color schemes. Wood-stained shutters may be more suitable when your nursery features more natural elements or you want to match the current wood trim. And when you modify the style as your child gets bigger, your shutters will still coordinate with the space's altered look.
Interior shutters have a specialized composition that makes them ideal for little ones' spaces. In lieu of using drapes or pull cords for a loved one to pull on or become entangled with, interior shutters utilize solid panels with adjustable louvers set in a frame around the window. They also wipe off easily whenever they inevitably get smudges from tiny fingers.
Shutter slats and panels provider a few different options for adjusting sunlight and privacy in your child's space too. Swing back the panels for a sun-filled play area or close the panels and tilt the slats out to allow partial outside light and redirect it off the spot where your child plays. Then shut the panels and louvers to eliminate nearly all sunlight for whenever it's sleepy time.
Closed plantation shutters block heat loss as well. Air isn't able to get past real wood and faux wood as it does through fabric window treatments. And exceptional Ovation® and Polywood shutters employ first-rate workmanship to minimize gaps where air might get past. Polywood shutters also feature weatherstripping that makes them the most energy-efficient nursery window treatments in Chicago and makes sure your space remains at a consistent temperature for a soothing rest.
Cellular Shades Lend Energy Efficiency and Color To Nursery Windows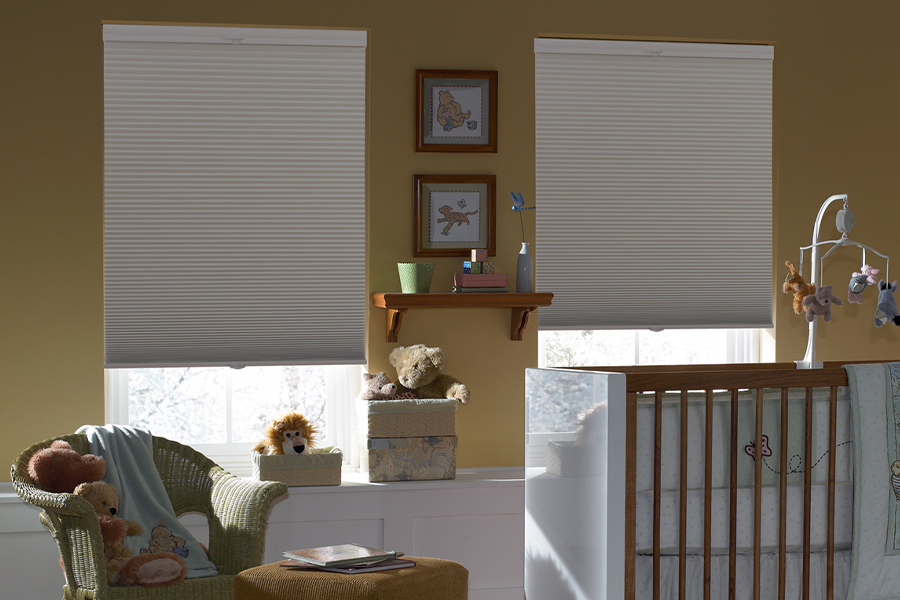 If you would rather a softer material for your nursery window treatments,
choose cellular shades.
These window coverings are offered in many different colors, patterns, and materials for you to choose from. You'll even find styles including top-down/bottom-up shades that provide extra flexibility with sunshine and privacy or cord-free shades that a child can't get ensnared in.
The leading benefit of cellular shades is their energy efficiency. Their composition creates small honeycomb-like cells that trap air going through your windows before it enters the nursery. They aid in keeping the room at a comfortable temperature and energy costs down.
Would You Like More Nursery Window Treatment Ideas In Chicago? Talk To Sunburst
Regardless of whether you are looking for nursery window treatment ideas in Chicago or options for another room of the house, Sunburst Shutters Chicago is here to help. We carry a wide selection of window fashions that make your residence more attractive and comfortable. Reach out to 847-250-6544 or submit the following form to request a free on-site consultation and explore outstanding window treatments in Chicago.