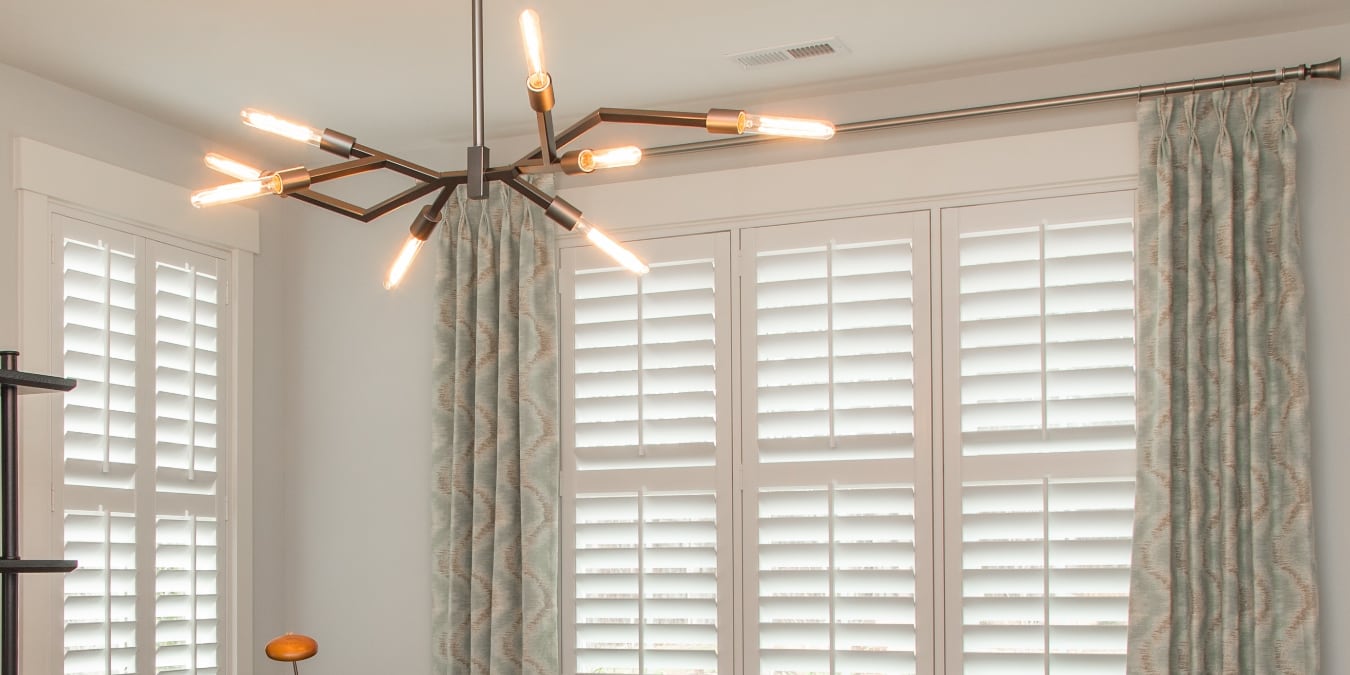 Home Office Window Treatments In Chicago That Work For You
If remote work is your new way of life during these unprecedented times, you probably need some guidance in improving your Chicago home office. A good place to start is your window treatments. Want to see a quick comparison of the different home office window treatments?
Here is a link to our window treatments chart, for window treatments perfect for your home office.
Products like plantation shutters and motorized window shades are popular home office window treatments for Chicago residents who would like to have a distraction-free and comfortable work setting without compromising your home's unique design. These treatments can even help you look more professional during teleconferencing! Read how you can use these window treatments to your benefit.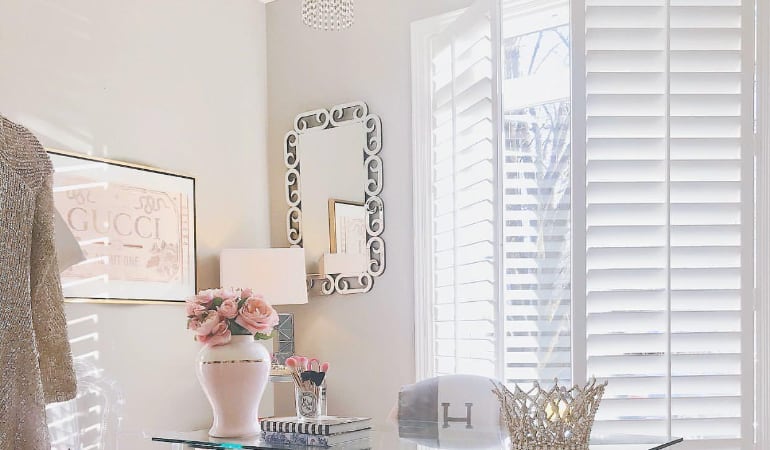 Plantation Shutters: A Top Choice In Home Office Window Treatments In Chicago
Working from home has its own set of challenges, so choose home office window treatments in Chicago that will make the workday more pleasant. Plantation shutters' unique design makes them a popular option when you'd like to control your room's light and temperature.
One of the perks of working remotely is that you are in charge of the comfort levels. Even so, you don't want to increase your utility expenses by relying on your HVAC system all day long. Insulating Polywood shutters are a smart alternative. When it's hot and sunny, keep your shutters closed to cool your home office and limit the glare on your monitors. In the winter, that same insulation helps reduce drafts.
Ready to reduce electric bills or hate lackluster lighting? Move the louvers on your shutters for sunlight that you can redirect from your screen and into dark corners. Close the slats back up to limit distractions like passing traffic and dog walkers. You can keep them closed for privacy at night when you stay up late working.
If you want some flair in your home office, the attractive features of interior shutters create an elegant design component that enlivens even the plainest office window. They can be found in a variety of versatile colors as well. Whether you pick crisp white Polywood shutters or a more rustic looking hardwood shutter, your dazzling home office window treatments will make you happy to be working remotely!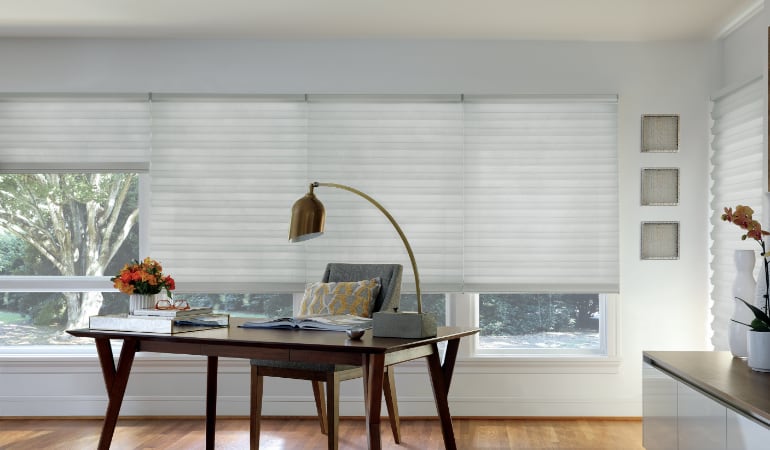 Motorized Window Shades Provide Variety And Convenience for Chicago Remote Professionals
Like Polywood shutters, various types of customizable shades offer privacy and comfort control for your home office windows. You can use blackout roller shades to block glare from the sun. Energy-efficient cellular shades protect you from chilly drafts and hold in warm air. Transitional shades allow you to pick between filtered natural light or no light at all.
Window shades also come in a multitude of colors, textures, and materials to match your unique taste and fulfill your idea of a perfect home office. You might like a distinctive option like Roman shades that provide a great background during conference calls or something simple like roller shades to avoid distractions.
Once you know what style of window shade you plan to buy, get the motorized option to enhance your workspace further. Motorized window shades operate with a remote control instead of by hand. This offers more flexibility for adjusting the amount of light in your home office.
If the sunlight shifts and a glare interrupts your attention, you are able to shut your shades in one simple touch without getting up. If too much light is impacting your appearance on a conference call, or you realize your office looks too dark on your monitor, you can lower or raise your motorized shades without disrupting meetings. Your boss and colleagues will be amazed by your professional workspace when you improve your home office window treatments in Chicago.
Are You Still Contemplating Which Window Treatments Is The Best For Your Home Workspace? We've Included This Chart To Help You When Comparing All Of Your Options.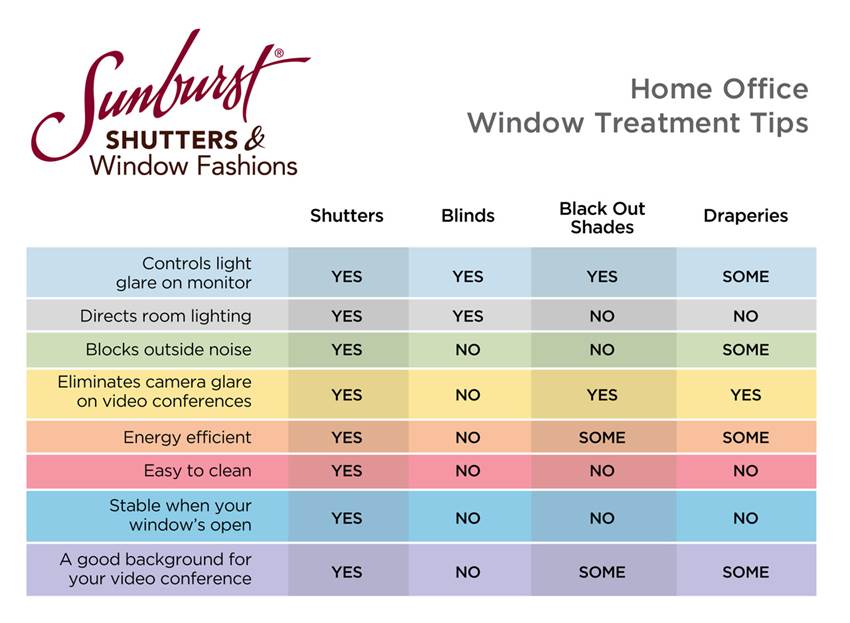 Get the Most Out Of Your Chicago Home Office with Window Treatments From Sunburst Shutters
You'll work better when your window treatments keep you comfortable and distraction-free. Speak with the window treatment professionals at Sunburst to find the right product for your home office. For a free in-home consultation, dial 847-250-6544 or submit our simple form.