Five Tips To Create An Amazing Media Room In Chicago
The latest home entertainment equipment makes it easier than ever before to immerse your senses in movies, gaming, and television in the comfort of your own home. This is the rationale behind why Chicago families continue to create home media rooms. But what should you have to design a fabulous home media room? From the right window treatments to electronics, here are five ideas for creating a media room in Chicago that the whole family will enjoy.
#1 Take Charge Of Outside Light With Louvered Shutters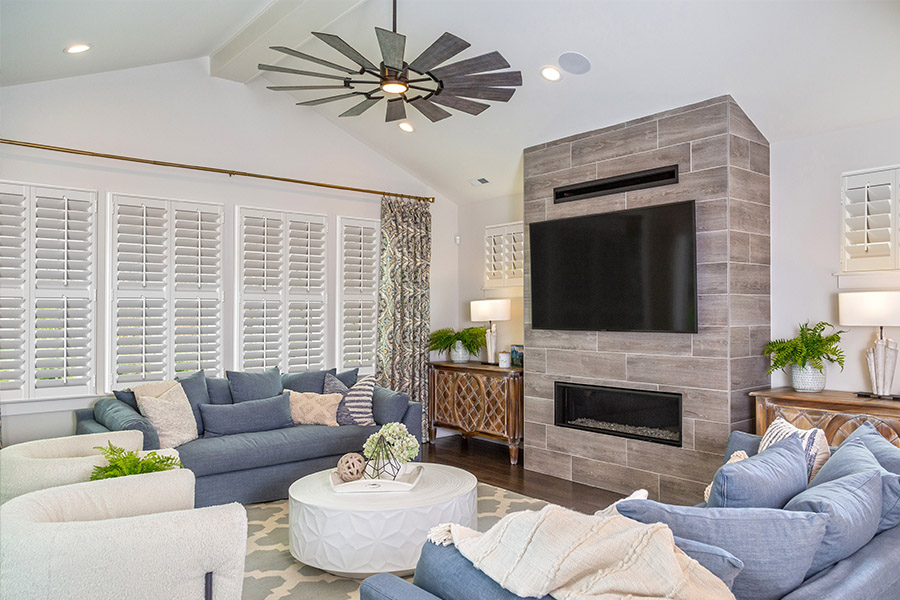 Nothing ruins a movie like the sun's rays on the TV. Dimmable lights help, but what do you do for outside light? Choose
interior shutters for window treatments
in your media room in Chicago for superior light management. Louvered shutters have a framework that surrounds your window to inhibit outside light. These durable products also consist of hinged panels with adaptable louvers that shut securely to achieve almost total darkness. Or move the louvers to a different angle to shift sunlight away from screens or your face without making your area seem like an underground cavern.
In the event you install Polywood® shutters, you'll enjoy a higher degree of window insulation as well. These synthetic shutters block UV rays and drafts to help your media room stay at an agreeable temperature level. They may prohibit as much as 30 degrees of heat transfer, lowering your energy bills.
#2 Upgrade Your Media Room's Audio Experience With A Few Minor Projects
Once you conquer the lighting in your Chicago media room, tackle the acoustic environment. Drywall is sufficient for media rooms walls, but your basement's concrete ruins the quality of sound. The easiest solution to minimize echoes in your basement media room is by putting up acoustic panels. In the event you need to resolve the sound issues in your media room, go with do-it-yourself sound absorption or sound barrier products. Then add in window treatments, like shutters, to control exterior noise.
#3 Invest In The Proper Equipment
The proper equipment will give you superior audio as well. Begin with your surround sound configuration. Many homeowners prefer Wi-Fi connected components because there's no need to trouble yourself with concealing wires.
You'll also want a fantastic TV. LED and LCD screens offer excellent brightness, but 4k televisions typically have better contrast levels and extremely wide viewing angles. Or get a projector and screen for that larger-than-life display in your media room. Whichever television you select, place it further up your wall for improved viewing angles.
#4 Choose Comfortable Furniture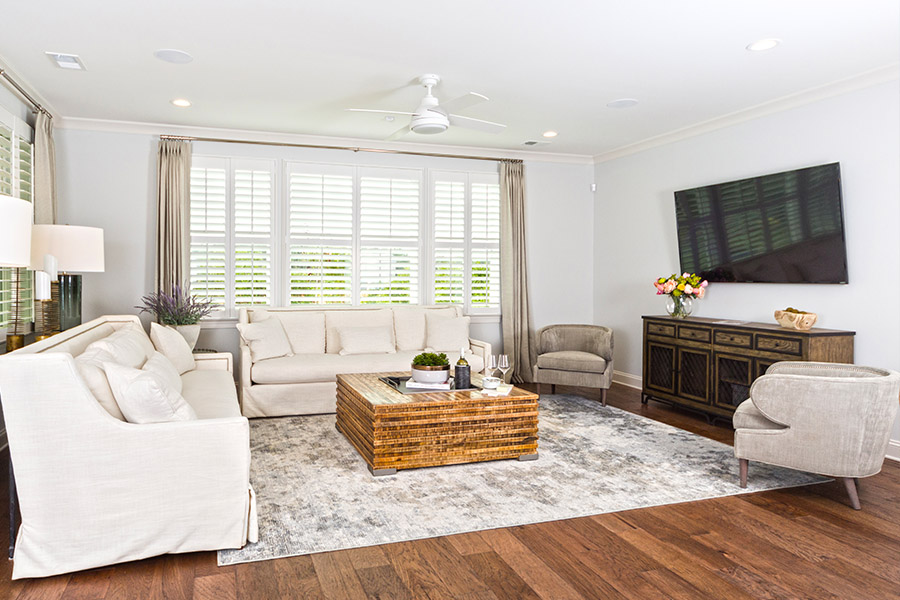 You won't be able to take pleasure in that new video game without a cozy seat. If your goal is a complete home theater, try to find specialized seating with reclining capability and built-in cup holders. For gamers, get the right number of chairs suitable for long hours at play. A large, comfy sectional is a smart choice too. And don't forget some blankets and maybe a pillow or two to get ready for those movie marathons.
#5 Redecorate With The Theme of Your Choice
You can decorate in whatever fashion you would like when creating a media room in Chicago. Do you love a particular sports team? Do you want to create the sense that you're sitting in an actual theater? Replica movie posters, a vintage popcorn machine, and vivid colors can reinforce the purpose of your media room.
If you want a more understated look, focus on a favorite color palette. Warmer hues with wood accents and complementary Ovation® shutters will make your media room feel snug. You could also go light and welcoming with soft neutral hues and Polywood shutters.
Consult With Sunburst About Window Treatments For Your Media Room In Chicago
The specialists at Sunburst Shutters Chicago are here to help you select window treatments you love for your media room. At your complimentary on-location appointment, we'll present how samples look in your home before you make your final selection. Schedule yours today by calling 847-250-6544 or by submitting the form on this page.