Conference Room Window Treatments for Chicago Offices
Having high-quality furniture and window treatments for your conference room in Chicago is a smart investment. After all, that's where lucrative deals are won or lost. It's the place where your top clients build trust with your team. It's the room where your staff hit their goals.
Your conference room won't impress your clients or help your team reach their potential if it's too light, too dark, too echoey, or just too plain. Your company needs window treatments that provide the right atmosphere for your conference room.
Some things to keep in mind when you're searching for the perfect conference room window treatments in Chicago are:
Your business' style and currentfurniture
How much light enters the room
If you need to dampen sound for privacy
Type of windows the room has
Energy efficiency needs
Durability
So whether you want a serious, classy, startup, or traditional feel, here are 4 window treatment options you might want for your conference room in Chicago.
Plantation Shutters For Conference Rooms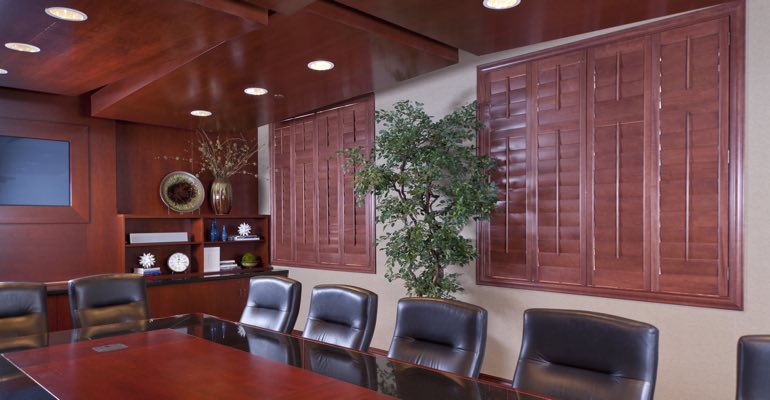 Plantation shutters' large louvers create clean lines against your windows and look stunning when seen from the inside or outside. Our faux wood Polywood® shutters are offered in three premium white paints which have UV-stabilizers in them so that they will never fade or yellow over time. You can also have them custom painted.
Ovation® wood shutters are offered in 11 paints and 28 stains to go with any existing furniture or tables and add a cozy feel to your conference room. Go with reclaimed wood shutters to give your conference room a truly unique look.
You can add a divider rail to your shutters and control the top and bottom half of the interior shutters separately. This lets you minimize glare on any monitors or projectors while still having light stream into the room.
Many conference rooms have large glass windows. Although these windows add a great view of Chicago, they allow a lot of heat to pass through them. Polywood shutters are more energy efficient than other window treatments. They'll help regulate the room's temperature and reduce the money your business spends on its utility bills.
Window Film For Conference Rooms
If your business' conference room has big, open windows with gorgeous views then window film is a great window treatment option. Window film keeps your windows uncovered while stopping the sun's UV rays. The film helps regulate the room's temperature and doesn't let the sun's rays overheat the space. It also minimizes glare on screens or monitors, which comes in handy when you're in a meeting.
Window film also helps with cash flow. Your business most likely has invested thousands into high-end, quality furniture in your conference room. Window film safeguards that investment by blocking harmful UV rays that fade your furniture and carpeting. Now, you get more years out of your furniture, and it looks just like new.
Shades For Conference Rooms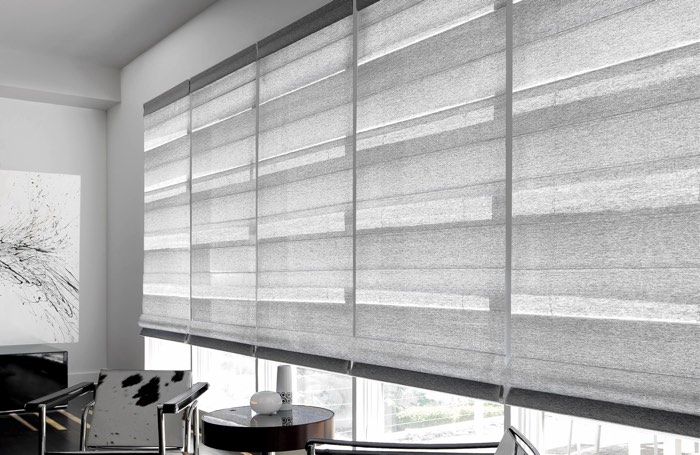 Shades are a popular conference room window treatment because of their versatility. Shade styles include roller, cellular, Roman, and soft vertical shades. Each of these styles have dozens, if not hundreds, of patterns and colors to pick from. Combine them with window film for increased light and temperature control.
Pull the shades down when you want to minimize glare or dampen sound during a noisy conference call. Pull them back when you want lots of light coming in the room and a beautiful view outside. Shades are chic up or down and don't detract from your current furnishings.
Blinds For Conference Rooms
Luxury blinds like hardwood blinds, soft vertical blinds, and metal blinds can give your conference room the modern feel you want. With 300+ different variations in colors, style, and texture, it's easy to find the one that complements your conference room's style and furnishings.
Blinds that are made of softer material will help absorb sound. You can add cordless lift systems and other options to make controlling the light in your conference room as simple as pushing a button.
Upgrade Your Conference Room With New Window Treatments
Investing in the best window treatment for your conference room in Chicago is a great business choice that will pay dividends by impressing your customers, creating the perfect environment for your employees, and safeguarding your furniture. Whether you want plantation shutters, window film, shades, or blinds, we carry the window coverings you are searching for.
If you want to learn more about which window treatment would be a perfect fit for your conference room, give us a call at 847-250-6544 to schedule a free on-site consultation. One of our window treatment specialists will bring samples to your office and walk you through your choices to help you find the best window treatment for your conference room. So call us or fill out the form below to take your conference room to the next level with a custom window treatment.