8 Ideas for Using Reclaimed Wood in Your Chicago Home
Chicago people really go for the look of reclaimed wood. It's a fashionable way to upcycle weathered wood and, at the same time unleash your own distinctive style. Reclaimed wood products capture the eye whether on a wall, your cabinets, or even your windows. Want some suggestions on using reclaimed wood to your best advantage? We've got 8 top-notch ideas for you – all applied to wonderful effect in Chicago homes.
1.Use Reclaimed Wood on Your Windows
For the first time ever, you can easily own reclaimed wood as a window treatment. Sunburst Shutters now offers a plantation shutter crafted from the best possible reclaimed wood. In truth, Sunburst is the sole company offering reclaimed wood shutters in the Chicago area. We searched high and low for the reclaimed wood you love and used it to create a louvered shutter that's just as appealing for its functionality as it is for its beauty.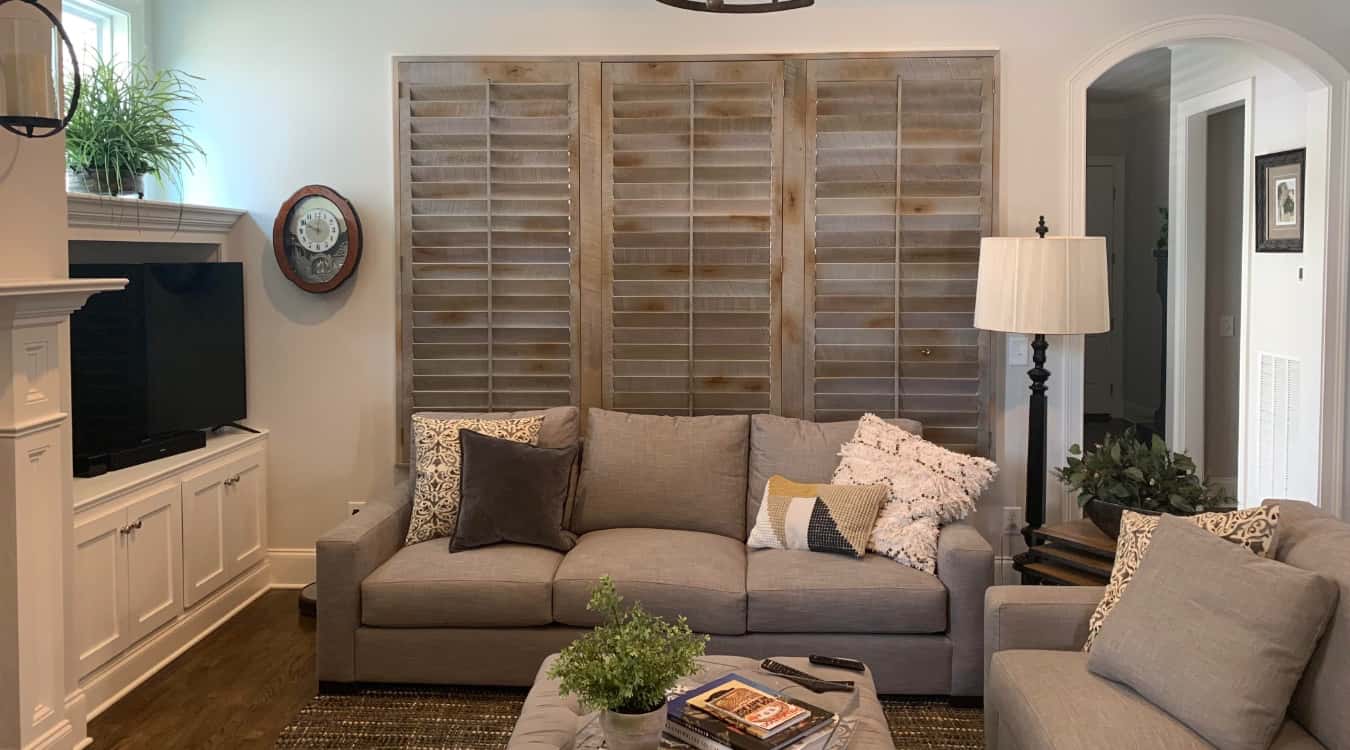 Reclaimed wood can become the makings for a window treatment that's wholly original. It makes a difference, certainly, that your reclaimed wood shutters are themselves works of art. And Sunburst sees to it they are. You'll enjoy their smooth, simple operation as well as their appearance. Tilt the louvers open to bring a little light inside. And tilt them closed to enjoy fully the weathered look of reclaimed wood on your window. Don't rely only on our word for it, though. There's so much more to discover about reclaimed wood for windows in Chicago. See what's out there!
2. Redo Your Walls with Reclaimed Wood
Nothing brings the outside inside as beautifully as a reclaimed wood wall. Reclaimed wood paneling turns your wall into a quiet but compelling showpiece and adds a homey atmosphere to the room. No matter if you have a TV, bookcase, fireplace, or artwork you want highlighted in a room, a reclaimed wood wall will look amazing behind it and give you the very effect you you want.
3. Reclaimed Wood for Your Floor
Looking to redo a floor in your house? Any wood flooring can add warmth and coziness to a room, but flooring of reclaimed wood has an unparalleled beauty that reveals the time – typically decades – the wood has remained in its natural habitat. Whether you love the outdoors or simply love the appearance of weathered wood, you'll be ecstatic about what a reclaimed wood floor can do to take your home to a whole new level.
4. Dress Up Your Cabinets with Reclaimed Wood
On account of the reclaimed wood's growing popularity, now is the opportune time to make over your kitchen cabinets. It's the natural way to make your kitchen the warm, inviting haven you've always wanted it to be. Each panel of reclaimed wood conveys an amazing tale – of long years during which it languished in a forgotten building, maybe, or as part of a fallen barn or fence. And something of that story will remain in your reclaimed wood cabinets, coming to mind at such times when you lay eyes on them.
5. Reclaimed Wood and Tables
A tabletop built of reclaimed wood can add a modern, emphatically unique touch to your dining room or home office. Match its wood tones with your décor for a harmonious look that satisfies your creative vision – at the same time it awes your guests!
6. Bookcases of Reclaimed Wood
However else we may regard them, books make great decorative pieces. Place a book or group of books on a coffee table or end table, on a bookshelf, or in a big bookcase, and they'll inevitably draw the eye. Their pleasing variety is both distinguished and harmonized in bookcases of genuine wood, too. And bookcases of reclaimed wood, because of their natural colors, knots, holes, scratches, and other markings, are a particularly unusual, one-of-a-kind décor item.
7. Picture Frames of Reclaimed Wood
The muted, natural look of reclaimed wood is ideal for picture frames. It actually can enhance your favorite artwork and most cherished photos in a most splendid manner. Note also that frames of reclaimed wood can be assembled in a variety of styles, so they'll complement almost any interior look you've created.
8. Use Reclaimed Wood for Your Headboard
There's little that can revive the look of a bedroom like a intelligently designed and constructed headboard. There's no prescribed way, mind you, to attach a headboard. It can be – and often is – attached to the bed itself. But many homeowners nowadays prefer it attached to the wall behind their bed. Either way, a headboard consisting of reclaimed wood planking can be quite breathtaking. It's natural tones and weathered features make it well suited to a broad range of styles, from antique to modern. With reclaimed wood, you can loosen up your design sense to create the headboard you've dreamed about!
Let Reclaimed Wood Revitalize Your Design Sense
We hope we've inspired you with these 8 ideas for using reclaimed wood. That said, we have a great many more ideas – ideas that pair exquisitely with the reclaimed wood shutters only we provide in Chicago. All of us here will be more than happy to show you samples of our shutters, answer your questions, and give you lots of other great design ideas. Contact us at 847-250-6544 to arrange your free in-home design consultation at your first opportunity!